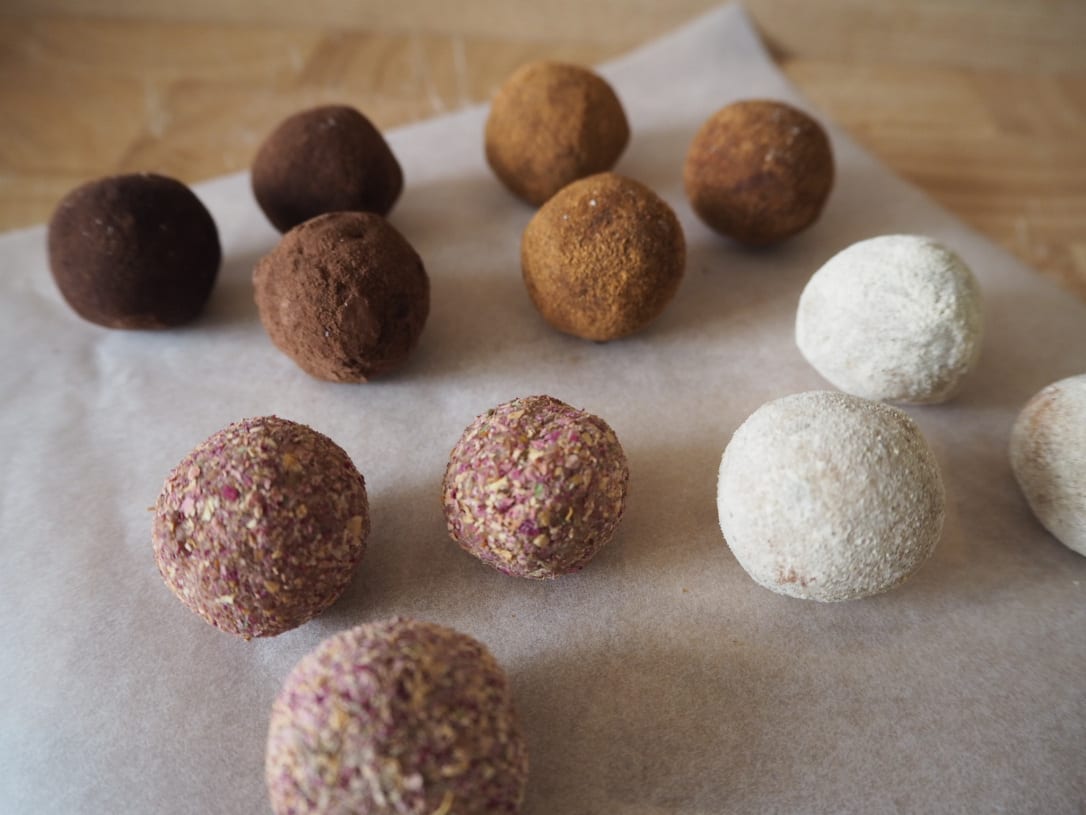 Remember Use-up November? Well it's use-Up daily in my Household ? I posted a Picture of my overloaded pantry back then -JESUS it was a lot. But I am getting there ? That's how this recipe came to life! Using up stuff I have kicking about like nut meal…
This is an easy, no-bake recipe which will require about 20-25mins. It's a recipe you can variate, and I will give you some ideas and the end of this blog entry!
For now, this is what I whipped up this afternoon! You need:
15 juicy dates (or soak them overnight if they are hard as bricks like mine were) // 15 weiche Datteln
100g walnuts // 100g Walnüsse
50g coconut shreds + 50g hazelnut meal // 50g Kokosflocken & 50g Haselnuss-Fülle
2 Tbsp coconutoil // 2 EL Kokosöl
1 tsp cinnamon // 1 TL Zimt
Cocoa powder or similar to coat the pralines // Kakao oder ähnliches zum einrollen
Instructions // Anweisung
Combine alle ingredients except for the last one. Blend in a mixer or similar. Put the finished homogenous dough in the fridge for 10minutes. // Kombiniere alle Zutaten, bis auf das letzte, mixe/püriere alles fein zu einer gleichmäßigen Masse (ich habe einen Stabmixer verwendet). Der fertige Teig kommt dann 10min in den Kühlschrank.
Form little balls and roll it in the cocoa. // Forme kleine Bällchen und rolle sie in den Kakao oder ähnliches!
VARIATION: I got bored of the cocoa so I used cinnamon, vanilla cookie protein powder and rose petals! // Ihr könnt statt Kakao auch Zimt oder andere passenden Gewürze verwenden. Protein Pulver klappt auch!
If you fancy trying these out, let me know and tagg me on social media @hollywilkinsonofficial & #hollysticeats. I will feature you on my Instagram and might even add you to my blogposts as a Testimonial ❤