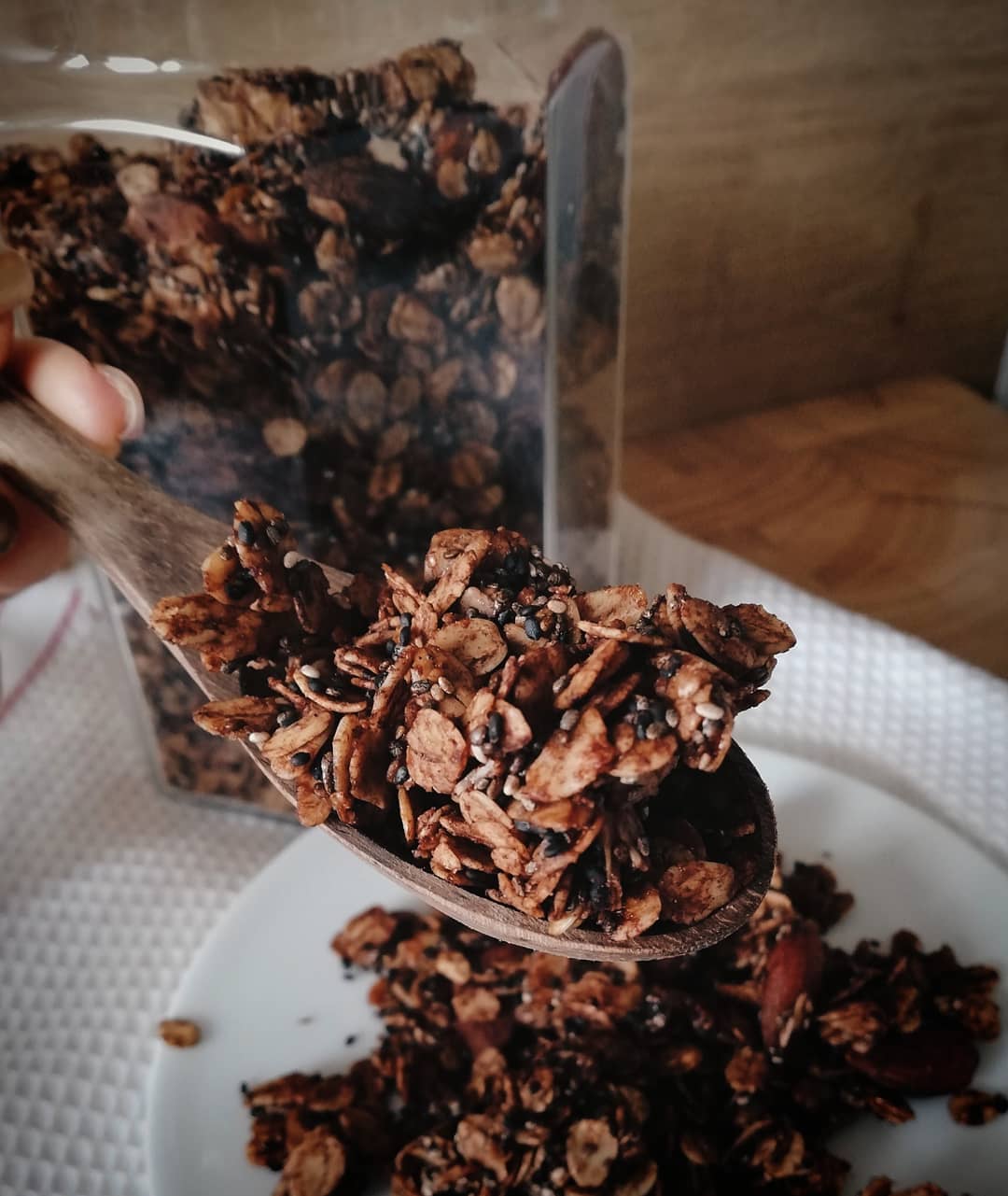 Granola is always a good idea. I regularly fall victim to buying the ready-made stuff from the stores (especially after my first attempt to make it myself years ago completely failed- I burnt it all 
 ) but it's a compromise.
[Deutsche Version in kursiv]
So here's to second chances- and it worked! This granola is easy to make, does not require tons of ingredients- and the ingredients can be switched to meet every flavour or preverance :-). Use it to topp of your porridge, yoghurt, smoothiebowls or even over baked goods such as bread pudding or muffins!
I hope you give it a go and enjoy it as much as I do!
Ingredients:
450g oats / Haferflocken
150g chia seeds /Chiasamen
100g almonds / Mandeln
3 Tbsp cocoa powder / 3 EL Kakaopulver
Optional: 1 sachet of vanilla sugar / 1 Pckng Vanille Zucker
1tsp cinnamon /1 TL Zimt
100g Coconut oil / Kokosöl
100g honey /Honig
Directions:
Heat oven to 160°C/ Top & Bottom heat. Prepare a baking dish and spread a piece of parchment paper on it. // Ofen auf 160 Grad vorheizen- Ober-Unterhitze! Backblech mit Backpapier auslegen.
Combine coconutoil and honey and heat carefully on the stove, to melt it! // Honig + Kokosöl in einem Topf vorsichtig erwärmen/schmelzen.
Combine all dry ingredients. Add the honey/coconut oil and mix it well. // Mische alle trockenen Zutaten in einer Schüssel und gebe den Honig/Kokosöl dazu! Gut vermischen!
Spread evenly on baking tin and shove it in the oven. Total baking time: 25min. Give it a stirr after 15mins.// Verteile die Masse gleichmäßig auf das Backblech. Das Granola kommt dann für 25min in den vorgeheizten Ofen. Nach ca. 15min bitte die Masse etwas wenden/durchrühren!
Remove from oven. Press the granola down so that it gets sticky! // Granola aus dem Ofen nehmen und mit einem Pfannenwender etwas andrücken, damit es klebt!
Let it completely cool. Then transfer it to an airtight container! // Granola komplett abkühlen lassen – anschließend in ein trockenes, luftdichtes Gefäß geben!